Helpful charts
Get a full overview of your tweet performance and follower growth from a detailed and helpful dashboard.
Follower growth tracking
See follower growth tracked in daily, weekly or monthly periods, with charts and a data table. No need for a spreadsheet.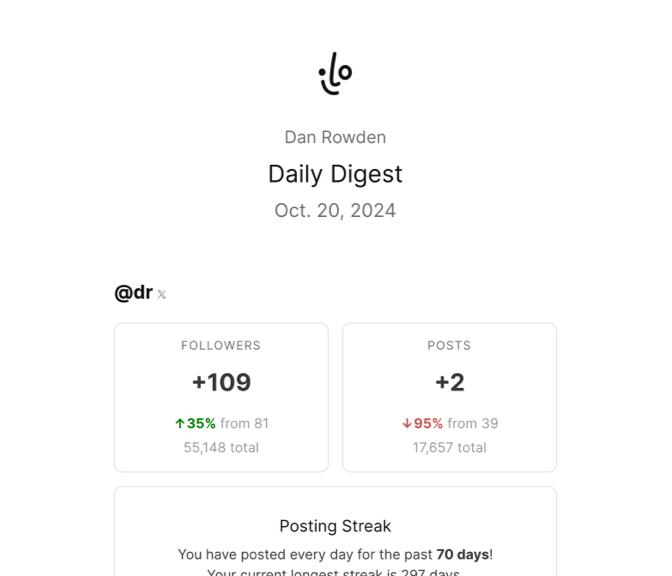 Daily digest emails
Get a reliable overview of each day in your inbox.
Pro-active insights
ilo watches your account and tells you of big milestones and emails you instantly about important insights.
Tweet streaks
Gentle nudges help you keep tweeting consistently (one of the easiest ways to get more followers).
Tweet table views
ilo lays out your tweets in a simple but powerful table so you can easily look at figures quickly, by any metric (impressions, likes, replies etc.)
Growth metrics
See your follower and impression stats by day, week or month, so you can see long-term growth patterns in a single view.
Tweet search
There's no faster way to browse and search your tweet history.
Follower milestone predictions
ilo estimates when you reach your next 100, 1k or 10k followers, to help you stay motivated towards your next goal.
Spaces analytics
Track engagement and participation in your Twitter Spaces.
Track your Spaces participants
See all the speakers in your Spaces along with Twitter info and participation data.
Make your dashboard public
Share your progress to your Twitter followers or team.
Follower database
Your followers, in a table. With keyword search and sortable columns.
Followers add-on
Get to know your followers
View all new followers in a feed, with full bios and follower counts.
Followers add-on
Live iOS and Mac widgets
Add follower and streak widgets to your devices, for quick glance access to your daily Twitter performance.
48 hour Tweet timelines
ilo tracks impressions and engagements for the first 2 days of each tweet.
Multiple accounts
Monitor multiple Twitter accounts with ilo and switch between them with a single click.
Export followers to CSV
One-click downloads of your full audience data.
Followers add-on
Twitter Analytics API
Build on top of your Twitter data via ilo's API.